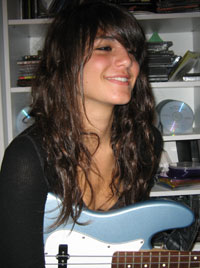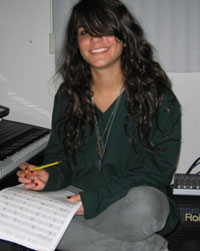 Sophia Melon
Singer/Songwriter
Dear Rob,

We just wanted to drop you a line and thank you for all the good work you have been doing with our daughter Sophia through your private lesson program.

Especially valuable to us has been the recent coaching you have done for Sophia's Disney auditions. When we first heard about the Disney project, we were pretty worried about how Sophia would prepare for the difficult audition elements that she was going to face, as well as how we were going to organize her submission requirements as well as send them via the Internet to Disney.

How happy we were to be able to bring all of her recorded material, her list of school plays and performances, all her musical background experience as well as photos to your studio, and were then amazed to see you sit down at the computer and complete and submit an entire press package for her in just a couple of hours. We were able to meet all the audition requirements and her submission was timely as well as professional. We hadn't realized there was so much organization to do in so many computer formats, and were quite happy that you had these abilities above and beyond a normal musical instrument teacher.

Sophia not only got the audition, but got the job!

Over the past couple of years, Sophia has benefited greatly from your expertise in many areas far beyond that of a piano teacher, working with her also on bass, drums, guitar, microphone use, song arranging, and studio recording. You have always kept us well informed and we especially looked forward to speaking to you at length on Sophia's musical progress. You have been always able to inspire her to do better, work harder, and focus on her musicianship as well as her emotional and physical well being as being important aspects of gaining a position in the music industry. She is a natural, but you have instilled in her a strong work ethic which is a hard thing to do with a teenager, and it always sounds better coming from a teacher than a parent. Her other teachers at school and other lessons are aware and respectful of your work as a recording artist and live performer, and this has only added to our confidence in you as we have watched her progress with your curriculum.

We don't know of any other teacher who has organized easy to understand instruction for playing bass and singing at the same time, organizing choreography and microphone use, piano playing and singing combined with studio recording and basic lessons; all in the same lesson!! You are a gifted teacher.
Congratulations to your recent Student2Artist program graduate Jonathan Blake. We will enjoy his CD. Sophia really likes his music and is glad to have an example of success in her age range to compare her own music to.
See you at the next lesson.
Best regards,

Toni and Mike Melon
West Los Angeles

Message from Rob:

Sophia is one of those students who has a lot of natural talent and a lot of responsibility to develop her own talent.
She writes a lot of her own songs and has been in the program almost three years already. While she really likes rock music with guitar and bass being important instruments, I have always encouraged her to write music at the piano because of how much easier is to develop material at an instrument where you can see everything in front of you instead of looking off to the side, as well as play bass and chords at the same time.
Over the past summer we worked a lot on combining guitar, bass, drums, keyboard, singing, microphone techniques, studio singing and choreography to help her become a stronger and more well rounded performer who can do well at auditions such as the one for Disney Records that her parents mentioned. Truly, she understands now how much actual work it takes to become a live and studio performer, and that nothing takes the place of doing the assigned work to achieve musical goals. I have relied heavily on my background as a drummer, bass player, and live performer in creating a curriculum for her where she can work on the difficult aspects of playing a bass part, singing something totally different, and still looking at ease and happy for the camera.
She is lucky to have a very supportive, strong, and stable parenting team who can make sure she's always on time and work with her at home as well. Her audio performance on the sample audio included here is from one of teen pop songs I have composed called "Another Tuesday." She does a stellar job, be sure and listen.