REVIEWS:
1. All Music Guide Rick Anderson
2. Jazz Review Larry Taylor
3. Scott Yanow Review/Interview
4. All About Jazz C. Michael Bailey
5. Ejazznews John Gilbert
6. Glenn Mitchell LA Jazz Scene
1. All Music Guide Rick Anderson (reprint)
Featured Artist: Rob Mullins
Pianist Rob Mullins' sixteenth album as a leader is only his second really straight-ahead jazz project, and it's about as straight-ahead as they come: leading a traditional quartet (with tenor saxophonist
Jimmy Roberts
, bassist
David Levray
and drummer
Evan Stone
) he delivers a solid live set of standards and old-fashioned originals, all of them played with wit and innovative energy but also wth unflagging respect for tradition. The album opens awkwardly, with a long and completely unnecessary band introduction, but it picks up quickly with Mullins' own "Bb Major Etude", a bright and happy celebration of the bebop sound. Following a lovely (if not exactly revelatory) take on "Angel Eyes", the band swings mightily through a jazz adaptation of
Beethoven
's "Für Elise", and then stomps into a fine rendition of the hard-bop classic "Moanin'". Other highlights include an homage to
Thelonious Monk
titled "Monk's Ghost" and a calypso-flavored original titled "Island Girls". But even on the less unique and revelatory material, the band's sheer joy at playing together makes everything on this album a pleasure to hear. Highly recommended.-Rick Andersen All Music Guide
2. JAZZ REVIEW by Larry Taylor (reprint)Featured Artist: Rob Mullins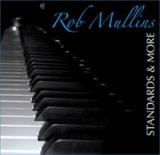 CD Title:
Rob Mullins: Standards and More
Record Label:
Planet Mullins/RME
Style:
Straight-Ahead / Classic
Musicians:
Rob Mullins (piano), Jimmy Roberts (tenor sax), David Levray (bass), Evan Stone (drums)
Review:
It's good to hear a local Southern California musician playing the small club scene break out with a solid, swinging CD. That is Rob Mullins with
Standards and More
. No solo feat, pianist Mullins has outstanding help on this live recording at Steamer's in Fullerton, California.
Particularly strong is the contribution of the volatile and versatile tenor sax player Jimmy Roberts. As well, the tightly integrated rhythm section of David Lavray, bass, and Evan Stone, drums, lay down a solid foundation throughout.
The program, as the title implies, is divided between innovative arrangements of standards and sparkling originals. A highlight is the venerable ballad "Angel Eyes," featuring Mullins' moody meditation, giving off a definite film noir feel. He is joined by Roberts' misty contribution, deepening the vibe.
Coltrane's "Giant Steps" shows Mullin's creativity as he turns the classic into an up-tempo romp, Roberts solo here paying tribute to the master. On "Moanin'," the piece becomes Roberts' property as his gutsy, hard-charging tenor takes posession.
"When I Fall in Love" has Mullins building to an emotional crescendo in the end, while Ellington's "In A Sentimental Mood" echoes this depth of feeling.
The standards are great, but, Mullins really shines with his originals, ranging from the boppish "Bp Major Etude" to the impish homage, "Monk's Ghost," replete with quotes from "Blue Monk," including a dissonant "plink" here and there. Roberts finishes with some rollicking choruses.
Unexpectedly, Mullins also has fun with a Beethoven classic, giving us a sprightly take on "Fur Elise."
Illustrating his range, Mullins comes up with the Calypso-flavored "Island Girls," punctuated by Roberts' staccato bursts, buoying the rhythm sections which cuts loose here.
The closer, "J.R.'s Blues," turns out to again be a showcase for Roberts, who takes us to the wood shack for a dose of some earthy down-home blowing. Beethoven to the blues–lots of variety on this album.
Tracks:
Bp Minor Etude, Angel Eyes, Fur Elise, Moanin', In a Sentimental Mood, Giant Steps, When I Fall In Love, Monk's Ghost, Island Girls, J.R.'s blues
3. Scott Yanow Review/Interview
During his productive career as a pianist, composer,
bandleader and educator, Rob Mullins has performed
in many different settings and styles.
His versatile approach has allowed him to erase
the artificial boundary linebetween "contemporary"
and "traditional" jazz, sounding like himself in all idioms.
Standards & More
, recorded at Orange County's top jazz
club Steamer's, is arguably the pianist's strongest
"straight ahead" jazz recording to date.  
Certainly fans of bebop will enjoy this outing, but so too
will Mullins' longtime followers, for his wit, swing and creativity are very much in evidence.
"While I have made a lot of recordings that were live
in the studio," says Mullins, "this album is my first one
live in front of an audience in a club.  You can hear the
glasses clicking and the excitement in the room."
Standards & More has six familiar songs given fresh
treatments plus four of the pianist's originals.  
Mullins played drums for three years starting when
he was 11 and traveled with a rock band called The Barons.
But due to some health problems, he switched to the piano
when he was 14.  By the time he was 16, he was leading
a jazz combo and making a name for himself in the Denver
area.  Mullins attended the University of Northern Colorado,
studied with George Russell in New York and in Denver started his own record company, RMC Records.  Since moving back to Southern California, he has become a fixture in local clubs, continued recording highly enjoyable CDs, and has developed into a well- respected and busy educator who has thus far written four books.  He has also been composing for the Mullins Masterworks Series, classical music adaptations written in a modern way.
In addition to his work with his own groups, Rob Mullins has
worked with a notable list of major musicians including Branford Marsalis, Kirk Whalum,Ronnie Laws, the late Spike Robinson, Brian Bromberg, the Crusaders (in pianistJoe Sample's former spot for three years), the Rippingtons, Diane Schuur and Dave Grusin in addition to taking a recent tour of Russia with Hubert Laws.
  "I remember one night in the 80's where the pianists were Herbie Hancock, George Duke, Joe Sample, Steve Allen, and myself. That kind of stuff only happens in L.A. or New York."
For the future, Rob Mullins wants to "expand the fan base of
good music around the world and stimulate interest in jazz
as a uniquely American art form."  
When one considers how much fun Standards & More is,
balancing accessible grooves and melodies with spontaneous
creativity, it is obvious that the pianist  is uniquely qualified
to achieve his goals."-Scott Yanow
4. All About Jazz C. Michael Bailey (reprint)
Standards & More is a live quartet recording with a tenor saxophone front.. Rob Mullins is an over-the-top veteran pianist from the sunny climes of Southern California. Recorded live at the Steamers Jazz Club in Fullerton, California, Standards & More is Mullins' first straight ahead jazz recording since 1989/1996 Jazz Jazz.
The disc is divided 50/50 between "Standards" and "More."  Mullins makes a powerful argument as a composer on the disc opener, "Bb Major Etude", where he takes an established classical tool and reforms it into sleekly angular bop, accelerated by Jimmy Roberts' muscular tenor. On the standards side, "Angel Eyes" is performed as a densely decadent tone poem filled with block chords and tightly integrated bass and drums.
Mullins' rearrangement of Beethoven provides a rocking "Fur Elise" that segues perfectly into the roadhouse funk of Bobby Timmons' classic "Moanin'." Add to these Mullins' reworking of "Giant Steps" into a wonderfully loping romp and his own channeling of "Monk's Ghost."  The latter is a blues juggernaut and the former a wisely crafted reconsideration. Standards & More is a disc not to be ignored in 2006.
5. LA Jazz Scene Glenn Mitchell (reprint)
Pianist Rob Mullins makes major statements in both jazz and a combination of Latinized-rock into a fusion that is all his own. His quartet's appearance took place on Friday, March 3rd, to a filled-to-capacity audience at Steamers. Mullins' terrific band: Jimmy Roberts-tenor sax, David Levray-electric bass and special guest drummer Evan Stone (celebrating a birthday on this date). Steamers' owner Terence Love did the MC duties, introducing Mullins in a joking way, as "one quiet guy to another". Those of us who know them know they are straight ahead individuals, with lots of tenacity at all times.
Starting with "Like Someone in Love", Roberts kicked in a couple of meaningful choruses as the trio backed him. His playing soared with high-energy soul. Following were Levray's bass and Stone's drum solos coming forward in fine fashion with some distinguishing 8-bar breaks between them.
Mullins has been playing piano a long time. On visiting his website I learned he had won an impressive award in 2003 for Best Independent Jazz Artist of the Year. He has numerous CDs--his latest, Standards and More, is brand new and he performed several selections during this evening. I met Mullins years ago at a Saturday Pedrini Music Store concert and remember his phenomenal piano playing. This man's chops are unbelievable!
An original titled "Monks Ghost" (a blues) really rocked the audience. It was typical of the stronghold Mullins can obtain with his group's driving straight-ahead format, combined with free styled fusion elements--all sequestered into the jazz he composes and performs. The group created so much excitement! I was surprised to be given a couple of descriptions by two fellow audience members: "A train running through the city, but coming to a safe stop" and "an instrumental gumbo, a tantalizing and enticing journey for the listener."
During a medley, the lovely ballad "In a Sentimental Mood" went into an ultra up tempo version of the spicy all-time favorite "Caravan". Roberts played a myriad of interactive soloing along with Mullins' phenomenal chord voicings, while bassist Levray soloed expertly. Stone then took a long drumming excursion that brought the house down! During Milt Jackson's "Bags Groove", Roberts held some really "looong" notes on his sax solo while Mullins fed him superlative chord changes. They continued right into a fascinating version of "So What" which was a creative knockout. The audience loved it!
Additional pieces from the group's CD were "Giant Steps", "Night in Tunisia", "Angel Eyes" and "Island Girls", a Mullins composition. The Bobby Timmons classic "Moaning" was probably the key highlight of the night. These four musicians stretched their playing to safe and even unsafe limits and again the audience was thrilled. "Manha de Carnival" produced lovely interaction between Mullins' piano and Stone's drumming. The evening's closer was the beautiful "When I Fall In Love". Give yourself a musical treat and catch this very colorful ensemble.
6. Ejazznews John Gilbert
(reprint)
This CD, recorded live at Steamer's jazz club in Los Angeles, is due to hit the streets in October. I have to tell you that this is one swinging record. On the first tune "
Bb Major Etude
" Jimmy Roberts on tenor saxophone swings like a trapeze artist. There are no mindless notes in
his solo, his message is clear and concise and the ideas flow forth like a horn of plenty. Pianist Mullins follows suit with an equally brilliant soliloquy.
"
Moanin'
" This tried and true tune is given a breath of fresh air. Jimmy Roberts is in his blues bag with a sound as rich as an 1849 mother lode.
Roberts is not afraid to play and he jumps on this tune like it was something good to eat. Rob Mullins dances across the keyboard with  controlled fury and he gets it all in his solo.
"
J.R.'s Blues
" Excitement is the name of the game on this number. Jimmy Roberts talks about Jacquet and he does it most eloquently in a manner befitting Mr. J..... Roberts is a true sax master and I wonder why I haven't heard more of him. Rob Mullins struts along confidently as he rocks this number like he owns it. Great effort by all.
This ensemble is a perfect fit for the tunes that they have chosen. David Levray on bass and drummer Evan Stone are a perfect fit to augment this sizzling band.
5 Stars